These Portobello Mushroom Burgers are absolutely bursting with flavour! With a simple 4 ingredient marinade, these are sure to be some of the best veggie burgers you've ever had! – Hungry now? Jump to Recipe
It wasn't too long ago I uploaded my Beetroot Burger which went down an absolute treat! So, I thought I'd come back with another veggie burger for you.
Let's welcome to the party our good friend Portobello Mushroom.
Portobello mushrooms make perfect burgers for a couple of reasons. Firstly, they're big and juicy. I don't know about you, but when someone says 'mushroom burger' I always think 'it better be a darn big mushroom otherwise this ain't gonna work.' Portobellos can hold their own in a bun, trust me.
Second is that they take on flavour so well. Let's welcome a few more friends to the party
Portobello Mushroom Marinade
Balsamic Vinegar
Soy Sauce
Worcestershire Sauce
Garlic
Olive Oil
Salt & Pepper
The combination of balsamic vinegar and soy sauce works wonders on so many things, not just including burgers. It's something I learnt from Iceland's head chef at an event and have used it on some many things when grilling. Most famously my Mexican Chicken Burger!
With the addition of Worcestershire sauce and garlic, you get a really deep 'beefy' and delicious flavour.
How to marinate Portobello Mushroom Burgers
Clean your mushrooms with a damp cloth and remove the stalk.
Add your marinade to a zip lock bag.
Place in your mushrooms and move around with your hands to make sure they're fully coated.
Marinate for 30mins or as long as you have time for. Even 5 mins will make a difference.
Grilled Portobello Mushroom Burger
These beauties are perfect for the BBQ, but we're in the thick of winter now so pan frying is where we're at. I don't recommend baking these as you won't get the same caramelization and therefore, they'll be laking in flavour.
Speaking of caramelization…
Portobello Mushroom with Caramelized Onions
With all burger recipes, the toppings/fillings are usually all down to preference. However, I usually claim a few 'non-negotiables' – caramelized onions is one of them.
A lot of the juices stay in the pan after you've fried the mushrooms, the onions will soak this up and taste beyond delicious once they're fried. For proper caramelized onions, you want to fry them low and slow, but here I make quick caramelized onions (with a little help from a tsp of brown sugar).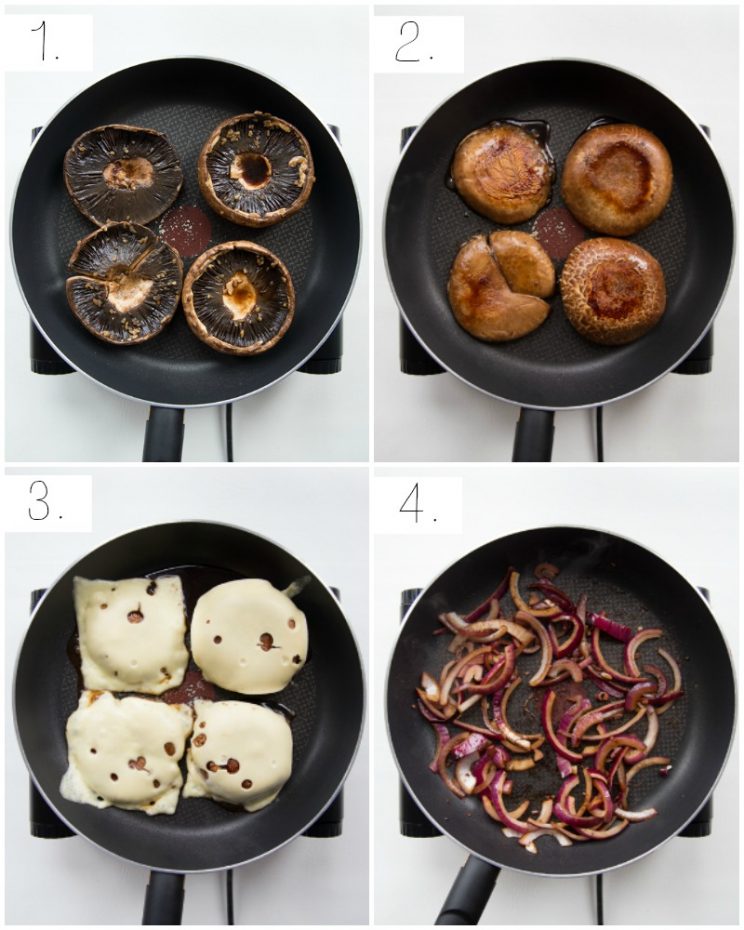 How to fry Portobello Mushrooms
Add your mushrooms face down to a pan over medium heat and fry for 4-5mins until soft.
Flip mushrooms over.
Add cheese and fry for another 4-5mins or until knife tender with the cheese melted. Remove from pan.
Add onions & sugar and continue to fry until soft and caramelized
When it comes to what cheese to use, here I've used Swiss, but also regularly use Cheddar.
Portobello Mushroom Burger Fillings
Toasted Bun
Tomato
Watercress
Cheese
Feel free to trade out the tomato or watercress, but the hummus, caramelized onions, cheese and TOASTED bun are a must 🙂
Okay, let's tuck into the recipe shall we?
Join the foodie family! – Get awesome recipes sent straight to your inbox by signing up to my Weekly Mailing List (where you'll receive your FREE ECOOKBOOK) and stay in touch on Instagram, Facebook and Pinterest!
How to make Portobello Mushroom Burgers (Full Recipe & Video)
Portobello Mushroom Burgers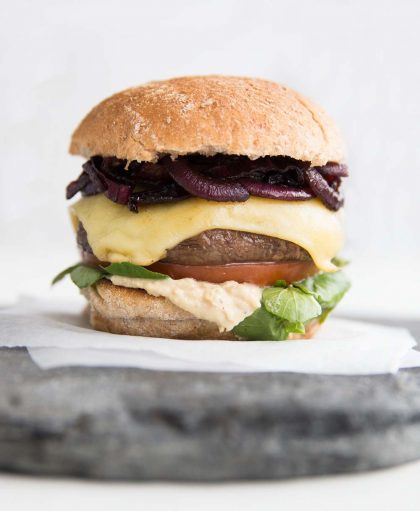 These Portobello Mushroom Burgers are absolutely bursting with flavour! With a simple 4 ingredient marinade, these are sure to be some of the best veggie burgers you've ever had!
Mushrooms
4 Portobello Mushrooms, stalks removed & cleaned as necessary
2 tbsp Balsamic Vinegar
2 tbsp Soy Sauce
1 tbsp Worcestershire Sauce
1 tsp Garlic
1 tbsp Olive Oil
Salt & Black Pepper, to taste
Burger
4 Burger Buns
4 slices of Tomato
4 tbsp Hummus
4 slices of Cheese, here I use Swiss
1 large Red Onion
1 tsp Brown Sugar
1 handful Watercress
In a zip lock bag, combine your mushrooms with the marinade. Mix it around so all of the mushrooms are coated, then allow to marinate for 30mins, or as long as you have time for. Even 5mins makes the world of difference.

Place your mushrooms facing down on a pan over medium heat and fry 4-5mins. Flip, then top with cheese and fry for another 5mins or until tender. Timings will depend on the size and shape of your mushrooms.

Remove from pan, leaving any leftover juice, then add your onions. Fry until soft, then add sugar and continue frying until caramelised. For the best caramelised onions you want to fry low over a long period of time to release their natural sugars, but for convenience this works fine.

Top your bottom burger bun with hummus, then watercress, then tomato, next with your mushroom burger, topped with your onions and finished with the top bun. Enjoy!
a) Calories – Based on the assumption that all the marinade is used, which is of course an over estimate. Also including the toppings listed in the recipe card. Calories per burger.
---
For another delicious and easy portobello mushroom recipe, check out my Pizza Stuffed Portobello Mushrooms!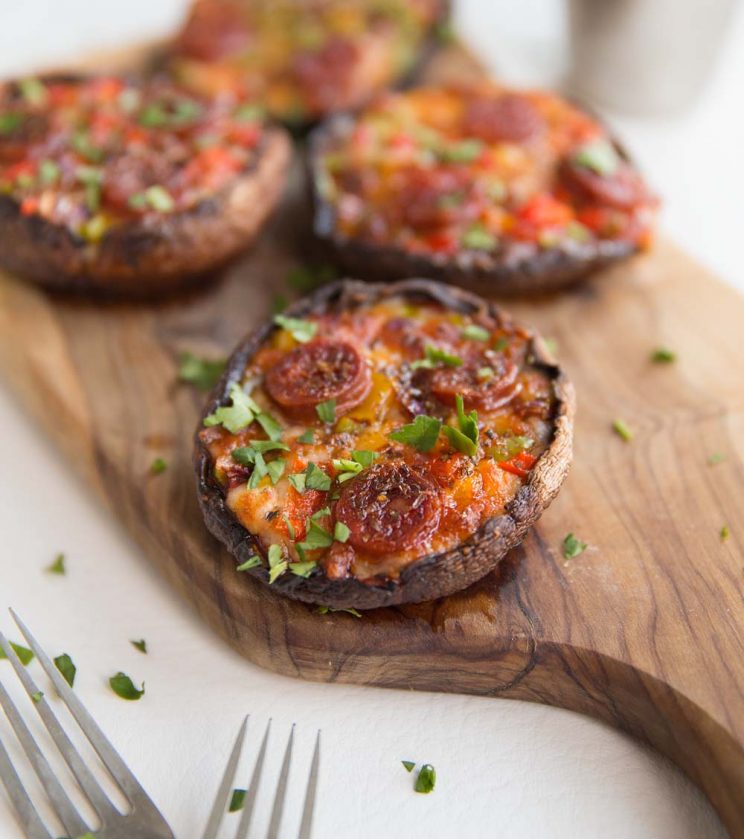 If you loved this Mushroom Burger Recipe then be sure to Pin it for later! Already made it or got a burning question? Give me a shout in the comments below and pick up your free ecookbook along the way!
The post Portobello Mushroom Burgers appeared first on Don't Go Bacon My Heart.
Source: Don